Homme à la Pipe

Clément-Janin 67

drypoint, 1879, on heavy tinted wove paper, the rare 2nd state (as annotated by the artist), a fine velvety impression, with burr, signed and dedicated in pencil "à son ami Roger Miles, l'auteur M Desboutin" by the artist, and dated 1890, apparently in very good condition, but unexamined out of the frame

P. 450x375mm.
An intimate friend of both Manet and Degas, often working side by side with one or the other, Desboutin was part of the first wave of impressionism, which Degas then called the "realist movement." Resolutely committed to its aims, Desboutin maintained an unswerving devotion to candid and refined observation in his drypoint prints, often annotating them "directe d'après nature" and working them up with a masterful spontaneity, as if sketching. Among the most moving of these are self-portraits, such as the one presented here, reminiscent of Rembrandt.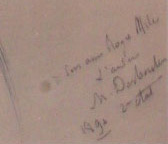 His prints were however very seldom editioned, and almost never steel-faced, being generally pulled in small runs of a few proofs as he saw fit, and often given away to his friends and acquaintances. His drypoints are thus most often rare.
The dedication is to Léon Roger-Milès (see close-up, right), the famous writer and art historian.